Many cleaners, detergents, and fragrances aggravate allergy and asthma symptoms. Since our family has food allergies, environmental allergies, seasonal allergies, and asthma, I knew the store-bought cleaners with fragrances and toxic chemicals had to go. I was skeptical that Force of Nature really worked at first, but after nearly a year of use, I am super happy with this cleaner and can wholeheartedly recommend it to others looking for an allergy-friendly cleaner.
Force of Nature Cleaner is a multipurpose cleaner and disinfectant that's as effective as bleach, completely natural (made with salt, vinegar, water, and electricity), earth-friendly, and it's on the EPA's list of Disinfectants for Use Against SARS-CoV-2, the cause of COVID-19.
Unlike bleach (read more about this below…yikes!), there are no allergens or irritants in the Force of Nature Cleaner, making it the perfect cleaner and disinfectant for all families, especially allergy families.
If you're in a hurry, here's my quick review of Force of Nature Cleaner. Below you'll find many more details and answers to common questions.
Force of Nature Cleaner Review At A Glance
What is Force of Nature Cleaner?
Force of Nature combines salt, water, vinegar, and electricity to make a safe cleaner that works on virtually any surface–laminate, stainless steel, sealed stone, glass, wood, porcelain, composite, tile, grout, plastic, and rubber.
Covid-19 Killer!
It's approved as an effective disinfectant against many germs and viruses, including SARS-CoV-2 (the cause of COVID-19)! 🦠
How We Use It
I use it mostly for cleaning and disinfecting in the kitchen, bathrooms, porcelain and tile floors, humidifiers, diffusers, and those high-traffic areas like door knobs and light switches.
My husband uses it daily to clean his smartphone and laptop.
Natural, Non-Toxic, and Allergy-Friendly
All this without any harmful chemicals or fragrances, making it an excellent choice for anyone, but especially those:
with allergies and asthma
with sensitive skin
who are sensitive to cleaners and fragrances
with kids
with pets
who care about their health
Harmful ingredients are even hiding in other "natural" cleaners, so don't trust that word alone when you're looking for safe and healthy products.
Summary
Although Force of Nature is a little pricey upfront, all the pros listed below make it worth it. This one cleaner can eliminate the need for most other cleaners. Plus, it's totally safe to use on baby products and even little kids can safely help you clean! 😉
🔥 HOT! Force of Nature Promo Code
Wow! Check out these hot and GREAT deals Force of Nature is offering right now!
LABOR DAY SALE
🔥 SAVE 30% on Year of Capsules Bundle + 3 FREE Travel Size Bottles + Free Shipping
Use code: LDW30
Valid September 1 – 7, 2021 only
BACK 2 SCHOOL SALE
🔥 $25 OFF Bundles + FREE SHIPPING on Extra Value Bundles & Year of Capsules!
Use code: BTS25
Read on for more information about the Pros and Cons of Force of Nature Cleaner, how it works, and our personal experience buying and using the cleaner for nearly a year now.
Force of Nature Cleaner PROS:
It's all natural and non-toxic. There are zero harmful chemicals or irritants in this cleaner, even for babies and those with sensitive skin!
On EPA's list of approved disinfectants against SARS-CoV-2, the cause of COVID-19.
Effective cleaner and disinfectant. It cleans, deodorizes, and disinfects pretty much any surface as effectively as bleach–without all the harmful side effects.
Kills 99.99% of germs, including Norovirus, Influenza A, MRSA, and more
It's safe to use around kids. Safe to use on baby toys and gear. Once kids get older and want to help with everything or need to do chores, you can let them use Force of Nature cleaner worry-free.
It's safe to use around pets, a must for families with dogs, cats, and other pets.
Safe to use on electronics. From germy smartphones to computer keyboards, rest easy knowing your devices are clean.
Replaces many cleaners: kitchen, bath, glass cleaners, disinfectants & deodorizers.
Travel-sized bottles can be thrown in your bag to use as a hand sanitizer, shopping cart cleaner, and travel cleaner.
Earth-Friendly. It's Green Seal certified for environmental excellence.
Auto-Shipment option. If you want to make sure you don't run out of capsules to mix up a solution, you can now set up auto-shipment so 50 capsules will be automatically delivered to your door every 6 months. This is perfect if you're or the others in your household are not always on top of noticing when things run out.
Force of Nature Cleaner CONS:
The solution lasts two weeks. After that time, the solution is not as effective and you should probably make a new batch if you haven't used it all yet. Since we we use this cleaner in every room and have little kids and a dog, we typically use a bottle of cleaner within two weeks.
It's an investment to start. If you're used to buying $3 bottles of cleaner, the Starter Kit price could come as a surprise because of the small appliance. It's really only 7 cents per ounce for the cleaner though.
However, it could actually save time and money in the long run because this one solution can replace the need to buy so many other cleaners (kitchen, bathroom, glass, disinfectant, etc.).
See all of the Force of Nature Starter Kits and Bundles.
Does Force of Nature Cleaner Work on Coronavirus/Covid?
Yes! Force of Nature is listed on the United States Environmental Protection Agency (EPA)'s list of approved disinfectants for use against SARS-CoV-2 (COVID-19)
See screenshot below where I verified this fact:
Like you, I have my own health and a family to protect. I purchased my Force of Nature Kit in April 2020, shortly after the Covid pandemic spread to our region. Having this cleaner to disinfect our home is one of the reasons I've had less stress about what germs are lingering on the surfaces in our home.
Best Place to Buy Force of Nature Starter Kits + Bundles
You can order Force of Nature Kits and Bundles directly from the Force of Nature website or on Amazon.
Although the supplies are available on Amazon, at the time of writing, you can save more money by ordering direct from Force of Nature. Make sure to use the special promo code below to get the best price.
Current Force of Nature Cleaner
Discount Codes
🤩 30% OFF + 3 FREE TRAVEL SIZE BOTTLES + FREE SHIPPING on YEAR OF CAPSULES BUNDLE
🤩 Get $25 OFF + Free Shipping on Extra Value Bundle & Year of Capsules Bundle
These are limited-time offers, so grab them before this deal ends!
Is Force of Nature Cleaner Safe for Kids and Pets?
Yes! You can confidently use Force of Nature Cleaner around children and pets.
I let our little ones help clean spray and wipe it with no issues (while still supervised) because there are no added harmful ingredients.
Force of Nature is so safe, you don't even have to rinse it off baby gear or toys after you spray it! You'll love using it on messy high chairs, booster seats, strollers, and toys.
Is Force of Nature Even Safe for Those with Allergies?
Yes! Force of Nature earns the highest possible rating (100% Skin Safe) from Mayo Clinic's Skin Safety Rating System.
Unlike most other cleaners, Force of Nature does not contain any added fragrances, dyes, preservatives or surfactants. It's shocking these ingredients are allowed because they are linked to skin irritation, asthma, allergies, hormone disruption, neurotoxicity, and cancer.
⚠️ The only allergy warning for Force of Nature is:
"Those individually allergic to chlorine should avoid direct contact as it may cause irritation with symptoms of redness, itching, and swelling."
Source: Force of Nature Safety Data Sheet
Is Force of Nature Toxic?
No! Force of Nature is definitely not one of those brands that claims to be "natural," which is not regulated by the FDA, but is really still full of toxic chemicals.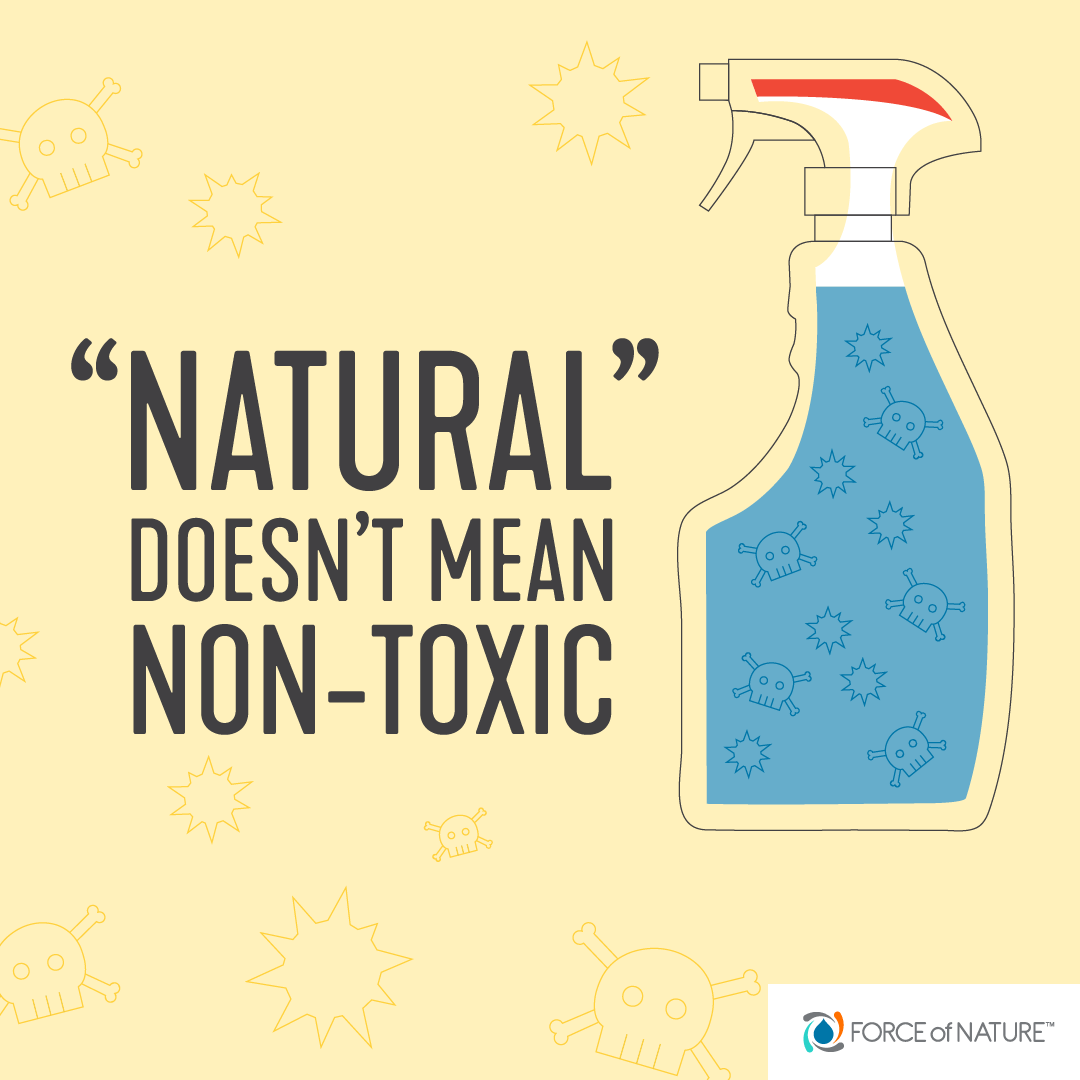 In fact, the Force of Nature Safety Data Sheet states only mild possible reactions even if a LOT of this solution were ingested:
🚨 Unlike Bleach…
To compare, the Clorox Bleach Safety Data Sheet has these Hazard Statements and Prevention Statements:
"This checmical is considered hazardous by the OSHA Hazard Communication Standard"
That's not even from ingesting it!
🚨 A few more hazardous warnings stated about bleach:
Causes severe skin burns and eye damage
Causes serious eye damage
Wash face, hands, and any exposed skin thoroughly after handling
Wear protective gloves, protective clothing, face protection, and eye protection such as safety glasses
🚨 And in Response to ingestion:
Immediately call a poison center or doctor
If swallowed: Rinse mouth. Do NOT induce vomiting.
If on skin or hair: Take off immediately all contaminated clothing. Rinse skin with water.
The warnings go on and on…
I won't keep going, but the point is Force of Nature creates Hypochlorous avid (HOCI), the disinfecting agent that's AS EFFECTIVE AS BLEACH without all those scary safety and health hazards.
Is Force of Nature Earth Friendly? 🌎
Yes! For starters, you reuse the spray bottle each time and recycle the capsules. Also, unlike bleach, which is "very toxic to aquatic life with long-lasting effects" (source), Force of Nature is safe for our earth and oceans in a way that no other cleaner is. It's Green Seal certified for environmental excellence (source).
Wondering how to use Force of Nature cleaner? Next, we'll cover the step-by-step instructions:
Force of Nature Instructions:
Ensure the rubber cover is covering the power jack on the back of the Electrolyzer. Fill Electrolyzer with cool water to the line.
Plug the power cord into the Electrolyzer and into an outlet.
Add the contents of one Activator Capsule into the water. Wait 10 seconds for the solution to disperse.
Press the Start button on the front of the Electrolyzer one time. Blue lights will begin pulsing, then will transition to green. The cleaner is ready after the light turns completely green, in about 9 minutes.
Unplug the Electrolyzer and pour cleaner into the Spray Bottle. Rinse the Electrolyzer with water.
Optional: Plug the Electrolyzer back in and press the Start button two times to start the day counter, which can help you keep track of when your cleaner expires in two weeks. Alternate option: Write the expiration date on the bottle with a non-permanent marker.
How Long Does Force of Nature Take to Work?
It takes about nine minutes to mix the Force of Nature Cleaner, which is then effective to clean, disinfect, and deodorize for two weeks.
After you add a capsule of the solution to the Electrolyzer, it takes about nine minutes for the electrical current to break apart the molecules and forms new elements: Sodium Hydroxide and Hypochlorous Acid.
If you sit and stare at it, nine minutes will seem like a long time. But if you start it, wash the dishes or put a load of laundry in, that 9 minutes goes by pretty fast.
Do Force of Nature Capsules Expire?
You might be wondering how long Force of Nature capsules last. Force of Nature capsules expire two years after the manufacture date, which you can find printed on each capsule.
"The capsules are printed with the manufacture date. They are good for 2 years from the manufacture date. For example, if the capsules are labeled 02219 they were made on the 22nd day of 2019 (January 22, 2019) and expire January 22, 2021."

-FORCE OF NATURE CLEANING
So it's wise to stock up on extra capsules in the beginning, but not so many that they'll expire.
If you're worried you might run out or lose track of how many capsules you have left, you can easily set up auto-shipment to get capsules shipped to your door. One less thing to worry about and keep track of!
Order Allergy-Friendly Force of Nautre Cleaner with Coupon Code
Ready to add this powerful allergy-friendly cleaner to your home?
I went with the Extra Value Bundle with the Electrolyzer Appliance + 25 Extra Capsules, which was just right. Plenty of capsules so I won't run out anytime soon but not so many that they'll expire in two years.
Make sure you use the coupon code LDW30 to save 30% off a Year of Capsules Bundle, plus get 3 free travel size bottles and free shipping! This deal ends September 7, so right now is the perfect time to get started!
Through September 10, you can Save $25 + Get Free Shipping on the Extra Value Bundle & Year of Capsules Bundle for the Back to School Sale.
SHARE THIS FORCE OF NATURE CLEANER REVIEW + DISCOUNT
From food allergy families to daycare workers and teachers, we need to get Force of Nature into more hands.
A non-toxic effective coronavirus cleaner that's safe for kids, pets, and even those with allergies and sensitive skin is a super rare find.
You found it, now make sure others know about it too! Share it on social media, email it to a friend, and save it to Pinterest so more families know about this powerful yet completely natural cleaner.
MORE RESOURCES FOR FAMILIES WITH ALLERGIES
POPULAR ON FOOD ALLERGY PARENTS
ALWAYS CHECK LABELS YOURSELF
Ingredients and manufacturing procedures can change over time. Please recheck food labels to make sure they fit your dietary needs before eating.
I am a constantly-researching food allergy mom. However, I am not a medical professional and nothing on this blog should take the place of your doctor's recommendations.
Recent Posts
link to Thrive Market Review by a Food Allergy Family
Honest Thrive Market Review after being a paying member for 8 years. Includes pros, cons, tips, and our favorite products as food allergy parents.
link to Dairy, Gluten, Nut + Soy Free Lunch Ideas for Kids
If you're looking for dairy-free, gluten-free, peanut-free, tree nut-free, or soy-free lunch ideas, you're in the right place! We use a Planet Box lunchbox and these are kid-approved and...